Our company was established in 1933. It boasts some 80 years of progress and development as it has undertaken the ongoing mission of providing consumers with superior quality natural olives throughout this time. IDEAL is a family owned company working hard all these years to supply quality products and become a household name in Saudi Arabia, Australia, United States and Europe.

World Renowned Quality
SINCE 1933
AN IDEAL HISTORY
To record the history of IDEAL we set the clock back in 1933 when Prodromos Mavrides, the founder of the company, born in Constantinople in 1904, arrived in Greece and settled in Piraeus. The few possessions he had brought with him included a typing machine and a couple of notebooks but he was amply equipped with three basic requirements, necessary for what he had in mind - to follow a carrier in the export trade. Firstly, he was an exceptional linguist - he was fluent in Greek, English, French, Italian and Arabic. Secondly, he had an inborn flair for doing business - fair business. Finally, the experience he had gained during the few years he had worked with his father back in Constantinople. They traded wines and caviar they imported from Russia. In 1933 he set up IDEAL and registered it with the Piraeus Chamber of Commerce under registration number 7, a number we still use as a reference when dealing with the said chamber.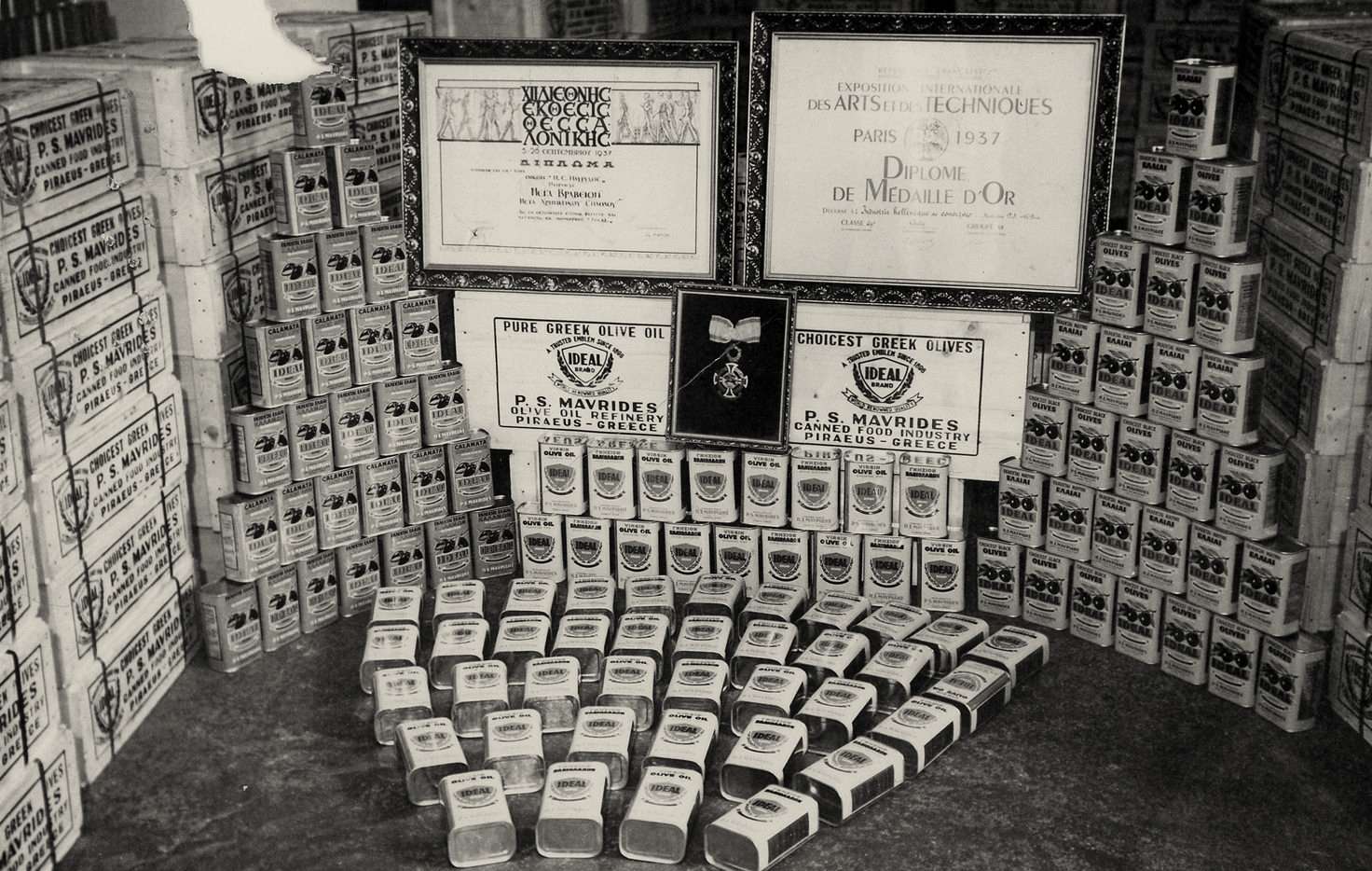 With the money he borrowed, he rented a one-room space in Piraeus and started out business, exporting various Greek foodstuffs all over the world. The list of items he dealt with included: olives, sardines, stuffed vine leaves, all sorts of pickles, halvah and a couple of other, all from reliable Greek manufacturers. He was a visionary, he had a dream: to put Greece on the map worldwide. He believed that his dream could be achieved through one particular food item he was fond of: the highly-esteemed Greek olives in all its varieties, known not only as a superb appetizer, but also as an exceptional food supplement of a healthy diet. So, he decided to confine his export activity to that "beautiful" food item. From now on IDEAL gradually began gaining ground in foreign markets, in some of which earning a dominant position. He was an extrovert and highly creative, two core factors that guided his motive-power in promoting the Greek authentic olives. He was so absorbed in business and such a passionate lover of the item he dealt with, it escaped his mind getting married and raising a family. IDEAL was his family and only child he used to say.
He passed away in 1970 leaving behind his sister's daughter, the only heiress and successor to the company. Three generations on, we, now in charge of the company, adhered to his principles, we keep carrying on his work and are proud to say what had begun as a one room office company, down in Piraeus, back in 1933, it now boasts to a two-factory production unit, a high volume of export activity, a host of happy and faithful customers all over the world and a fine olive product whose only notable competitor is no other than its brand name.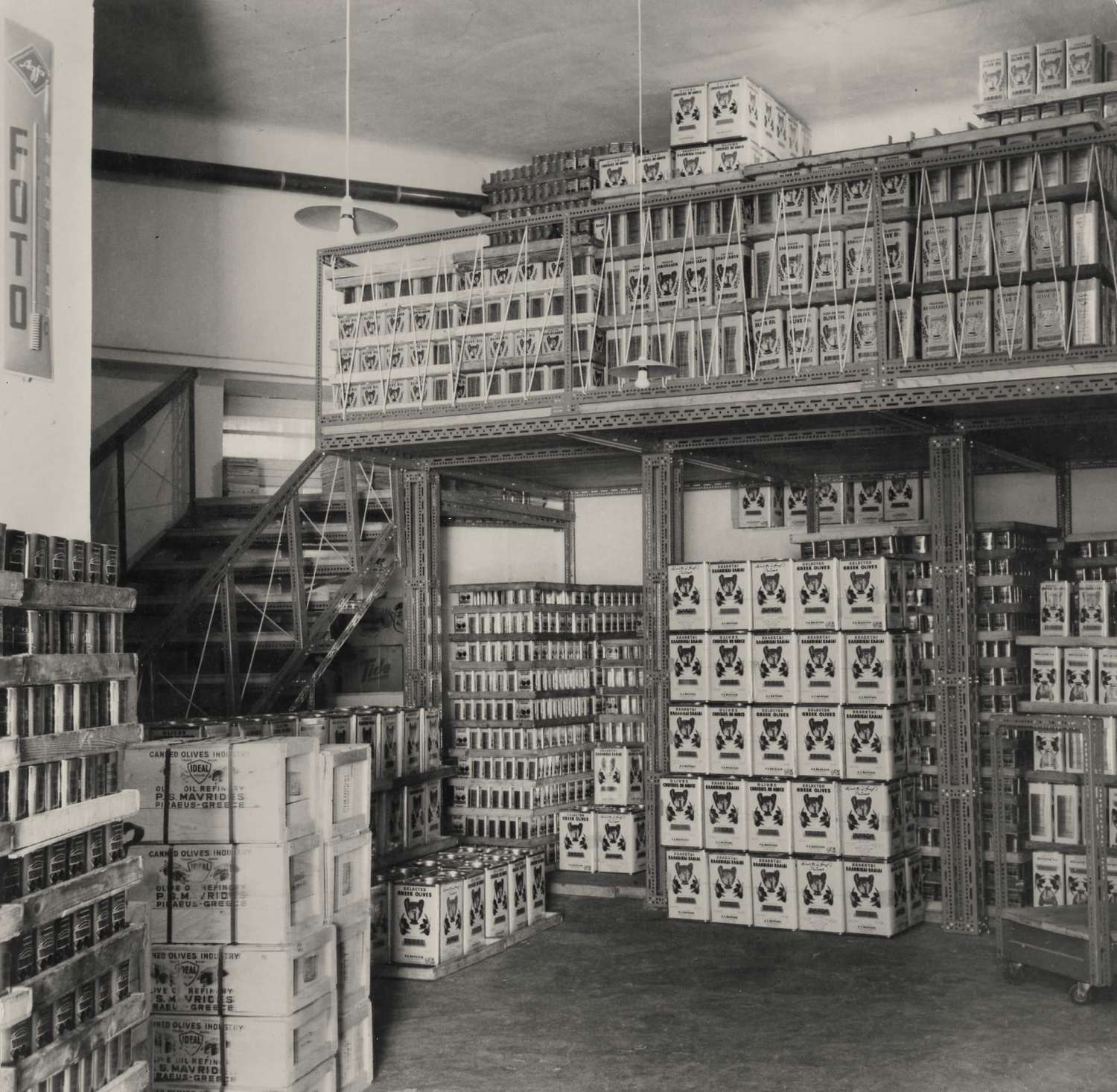 CERTIFICATIONS
IDEAL participated in international food fairs and competitions, winning prizes and distinctions, some of which we proudly quote here below:
Gold Award • International Exhibition of Arts and Techniques, Paris, France, 25/11/1937
Mega Award • 12th Thessaloniki International Fair, Thessaloniki, Greece, 5 – 26/09/1937
Honor Award for best olive oil and preserved food • International Exhibition of Commerce, Colón, Republic of Panama, 11/04/1954
5th Commercial and Industrial Exhibition, Limassol, Cyprus, 28/7 – 30/08/1954
3rd Damas International Fair, 'Olives in Tins, Olive Oil and Food in Tins', Damas, France, 1 – 30/09/1956
4th Damas International Fair, 'Olives in Tins, Olive Oil and Food in Tins', Damas, France, 30/11/1957
5th Damas International Fair, 'Olives in Tins, Olive Oil and Food in Tins', Damas, France, 1 – 30/11/1958
3rd International Food Exhibition, Paris, France, 27/10 – 4/11/1968
80 YEARS OF COMMITMENT
For over 80 years our commitment has always been to combine only pure raw materials free from additives, artificial coloring and flavoring.



We believe in using only the finest ingredients to create Greek authentic and great-tasting products, ensuring they fulfill high quality standards.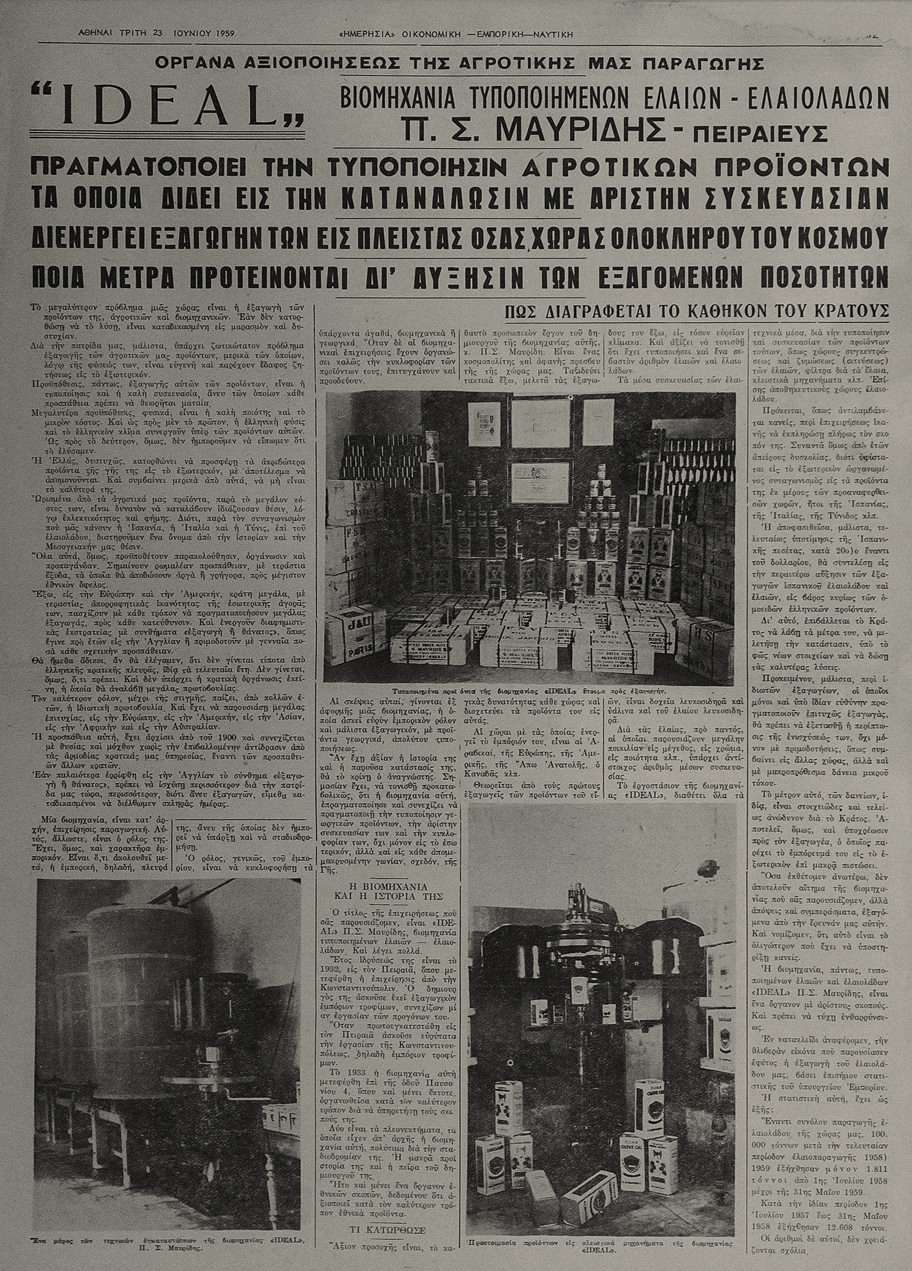 IDEAL's unfailing policy has been and will always be having loyal customers, following roads of mutual support, cooperation and above all trust, which we have built together all these years.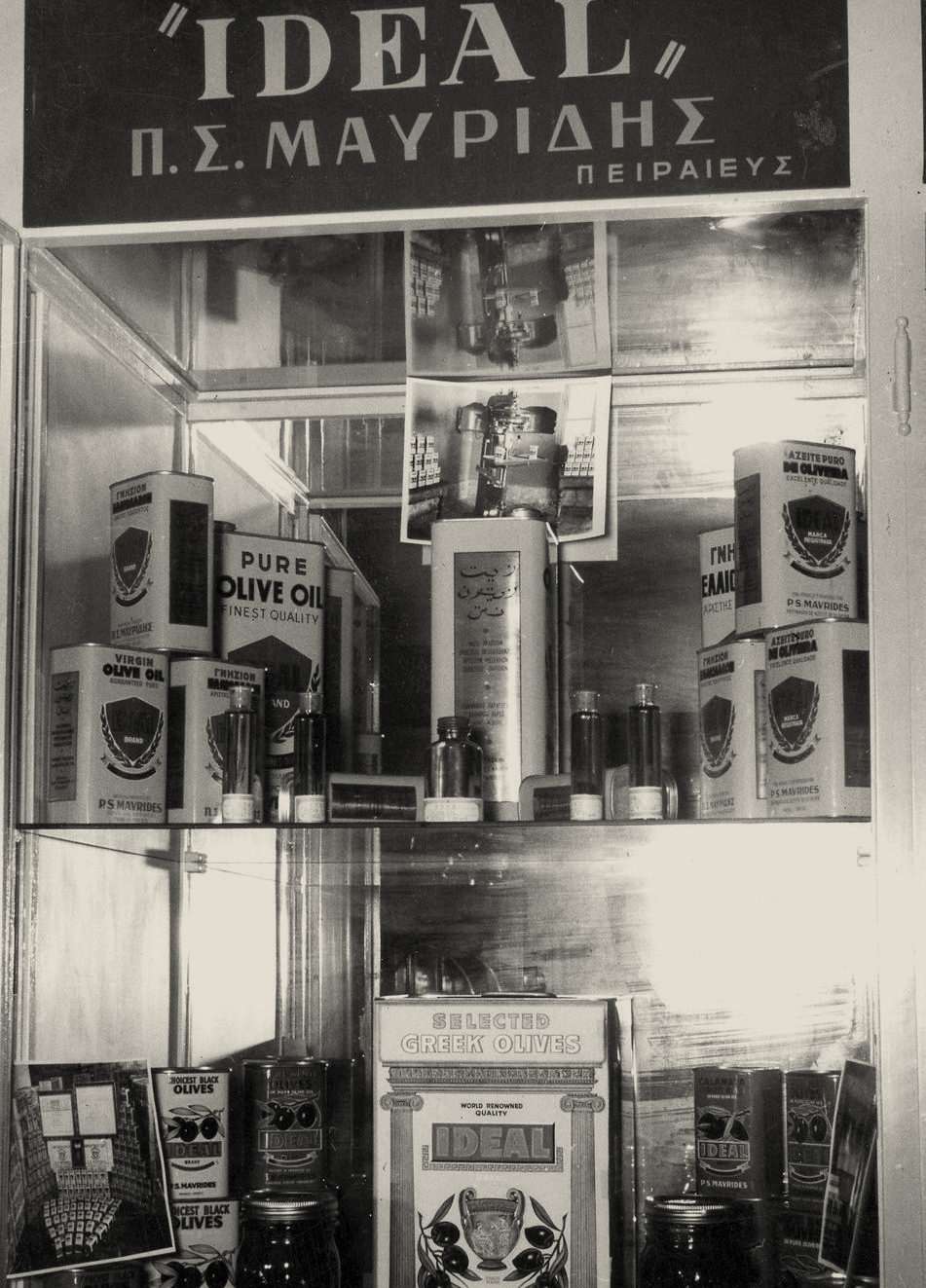 IDEAL ACTIVITY
IDEAL with 83 years of presence in the global market constitutes one of the leading Greek exporting companies of superior quality olives. The company contributes sustainability in the growth of the Greek economy and region as well as the foreign markets. IDEAL is responsible for the processing, packaging and delivering of a variety of Greek authentic olives in an international scale. The trust and the loyalty of our customers and consumers are built on our offering of consistently high quality. The finest raw materials are selected for production. A large network of local producers across the country provide us with ingredients and raw materials that are of the highest quality with the right degree of ripeness and the optimal processing conditions. At every stage of our production we have strict control processes, which guarantee the excellence of our olive products. By establishing stable and long-term relationships with our suppliers and trading partners meeting the certified standards of operation, as well as in the same time investing in research and development to create new products with traditional touch, our company guarantees the quality of its products. Winning the marketplace begins with anticipating and shaping the needs of our consumers and introducing them to new experiences. Not only does IDEAL contribute to introduce product and packaging innovation to meet consumers' increasing demands, but it also provides products, processes and services that improve economic and social prosperity, as well as sustainable growth. The competitive positioning of our products and the wide targeting of our market make our company appeal different groups of the global market. The business activity of our company refers to global services in the high-end market (gourmet and delicatessen stores), mass market (major distributors and importers) and product development and safety. Overall, the company's business activity is based on its effective corporate governance. The company is committed to its strategic business goals realizing its full potential. In this way, IDEAL ensures marketplace responsibility, improved reputation, enhanced business integrity and performance and financial sustainability. IDEAL's success derives from its willingness to blend the tradition and innovation, its punctuality and efficient customer service, its respect for its suppliers and customers and its environmental responsibility.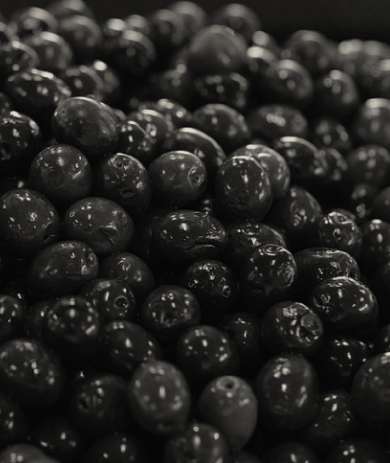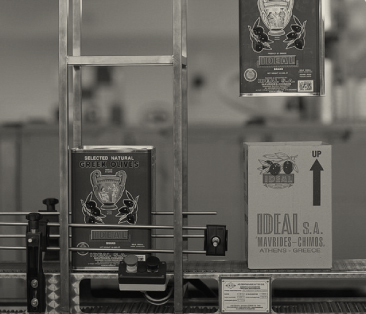 OUR PEOPLE
Our people are one of the elements of our business success. IDEAL promotes a safe, value-led and challenging environment, which is in balance with a high performance culture. We believe that the commitment in our values is the reason for our differentiation, the source of competitive advantage and the key force of sustainable growth. Our mutual responsibility is to invest in our people and help them develop in a personal and professional level. The inclusive corporate culture of IDEAL promotes opportunities for all, as well as creates room for higher productivity, innovation and better understanding of consumers and customers needs. Moreover, our main mission is the continuous learning and development of our employees. In this way IDEAL strategy focuses on orientation and training as we strive to inform them with the latest issues and technological advancement concerning the olive market in an international scale. By investing significantly in educating our employees, we put great emphasis on their skills and motivation and give them the opportunity to reach their full potential. IDEAL does not hesitate to recognize and reward desired employee behaviors, skills and accomplishments that support business goals. One of our main goals is to offer and develop a safety culture among our employees. We have ensured that all of our production plants are certified and follow the safety and health standards of ISO 22000. Safety and health seminars are organized for our employees in order to help them to raise awareness about manual handling and hygienic standards. We continuously try to deliver our devotion and passion of work to all in every level!
IDEAL HAS ITS OWN INSTALLATION IN KOROPI - ATHENS WITH A TOTAL SURFACE AREA OF INDUSTRIAL SPACE OF 6,500 M2 IN A WIDER AREA OF 15,000 M2 AND IN SOURPI-ALMYROS MAGNISIAS OCCUPYING 3,200 M2 IN AN EXPANSE OF 23,500 M2. THE COMPANY CONTINUOUSLY STRIVES TO FOLLOW THE DEVELOPMENTS IN THE FIELD OF PROCESSING OLIVES BY UPDATING ITS EQUIPMENT AND MANUFACTURING TECHNIQUES.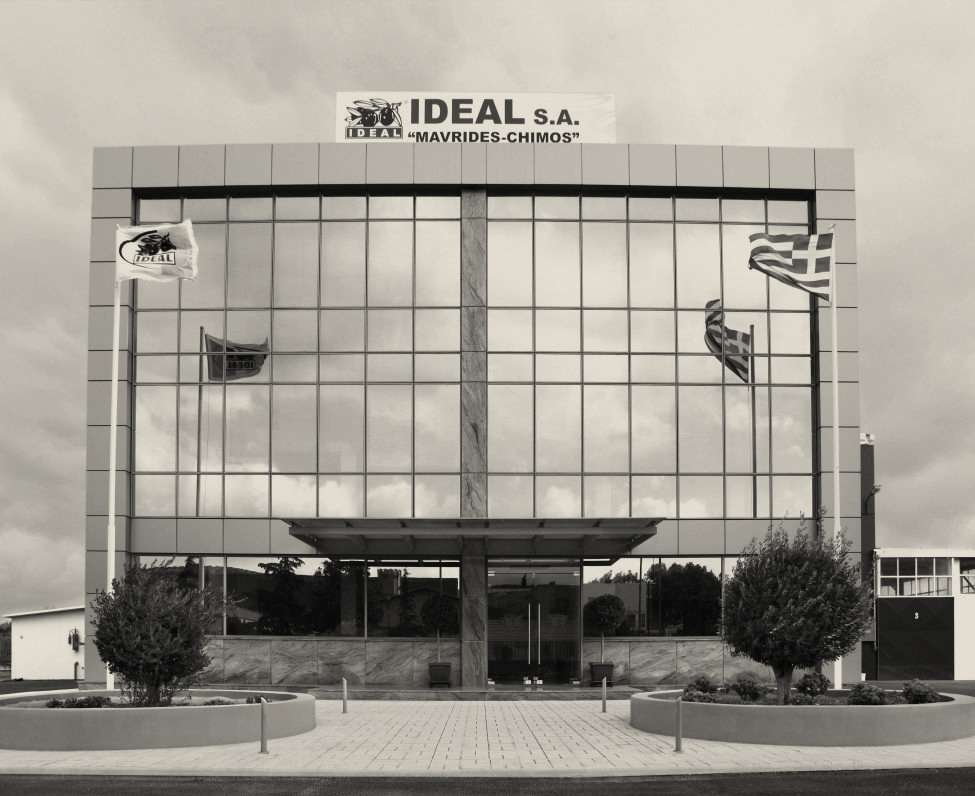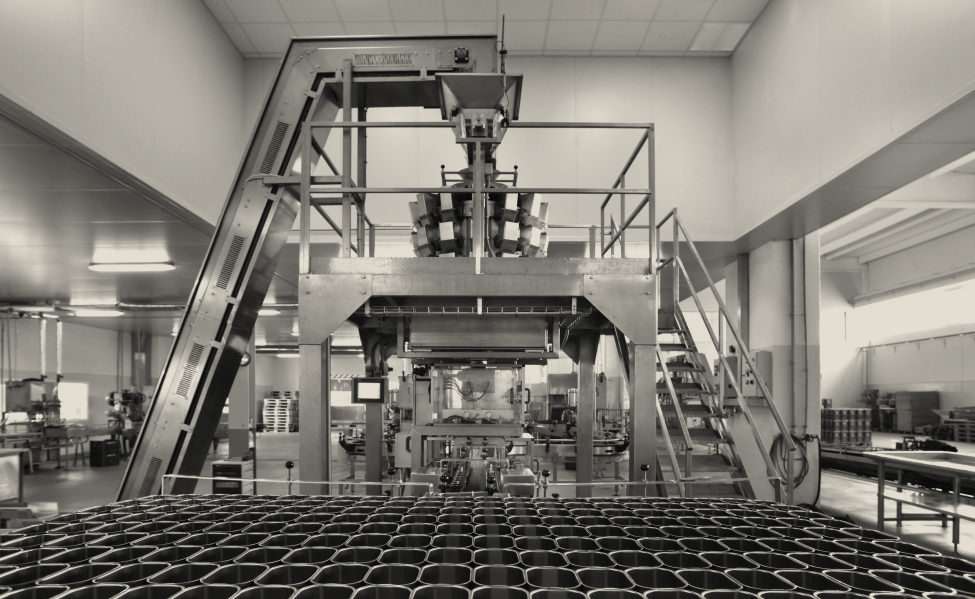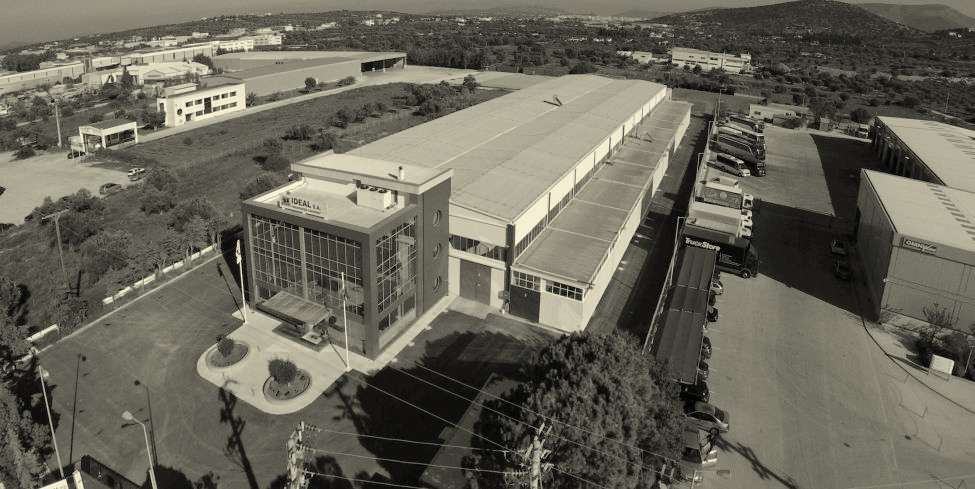 IDEAL CONTROL
The new installation in Koropi meets the highest standards concerning machinery, procedures and quality control methods. All operations are certified as per ISO 22000 (HACCP).

In addition, each factory has production, supplies, quality control/R&D as well as warehousing and logistics departments. IDEAL's headquarters are located in Koropi managing accounting & finance, sales, marketing & communication departments.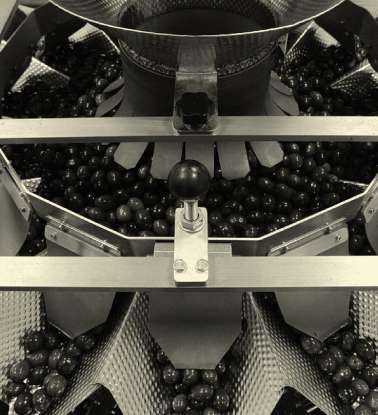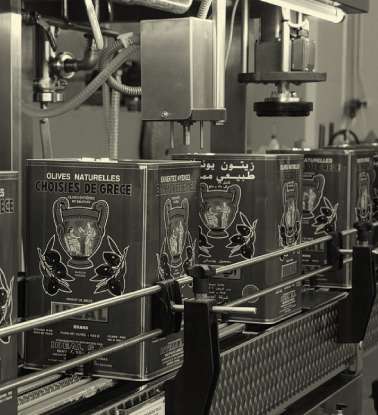 OUR OLIVES
IDEAL olives come directly from carefully selected olive groves, which are approved, certified, checked and periodically evaluated. For over 80 years our commitment has always been to combine only pure raw materials free from additives, artificial coloring and flavoring. We believe in using only the finest ingredients to create Greek authentic and great-tasting products, ensuring they fulfill high quality standards. We are in constant pursuit of developing new products, which are a result of innovation, research and state-of-the-art technology. Our mission is to identify the increasing nutritional demands of consumers and live up to their expectations.
KALAMATA OLIVES
Our superior quality IDEAL Kalamata Olives have been grown on century-old trees, which belong to selected olive groves. Ripened by the sun, the fruit is only harvested when it has reached the optimum rich color and flavor. After being naturally cured, olives are drained and packed in water, salt, vinegar and extra-virgin olive oil in different types of packaging. Firm, delightfully rich with a smooth meaty and pungent taste, IDEAL Kalamata Olives have no artificial flavoring or aromas added during processing. IDEAL Kalamata Olives can be whole, pitted and sliced. These exquisite olives can perfectly be combined with salads and dishes offering functional and nutritional benefits, as they are essential components of a balanced Mediterranean diet.
GREEN OLIVES
IDEAL Green Olives are hand-selected with great care from our partners who are hard-working farmers and share our passion for the finest quality. They struggle to collect the olives, which have just started to change color in the early stages of ripening. Although these olives yield less oil than ripe ones, they possess an incredibly high concentration of polyphenols with very low acidity. They are packed in water and salt, and can be whole, stuffed or mixed with peppers and lemons in different types of packaging. IDEAL Green Olives combine a balance of a fruity aroma and green pungency, as well as a high presence of antioxidants. Not only are they an ideal healthy snack, they are beloved tapas olives and comprise the best accompaniment for drinks & appetizers, salads and pasta.
BLACK OLIVES
Every great story has a beginning and IDEAL's begins with the world-famous IDEAL Black Olives. The journey of the Black Olives begins in November. Collected with great care from exclusive groves around Greece, Black Olives enclose all the aromas of the Greek land. They are immersed in water, vinegar, salt and extra-virgin olive oil in different types of packaging. The exquisite type of Black Olives, rich in nutrients and minerals, leave a strong and long-persistent aftertaste. They make a delightful snack, a wonderful starter and a delicious ingredient in several dishes. They are undoubtedly recommended for salads, pasta and Mediterranean dishes.
CUSTOMIZED PACK
We can pack our finest olives in p.p. jars, large tins and any type of kegs or barrels of your choice.
LOW SALT OLIVES
In the recent years, the food industry, both on a research and practical basis, is in constant pursuit of new and functional products in order to be updated and with a view to meeting the constantly increasing nutritional demands of consumers. For this reason, IDEAL is committed to contributing towards this scope by offering a special section of Kalamata, Green or Black Olives characterized by low salt content.
CONTACT
HEAD OFFICE - FACTORY
IDEAL S.A.
25 ARCHIMEDOUS STREET
KOROPI
194 41
ATHENS, GREECE
T:
+30 210 6020830
F:
+30 210 6026064
E:
INFO

@

IDEALOLIVES.GR
BRANCH - FACTORY
SOURPI ALMYROU
MAGNISIA, GREECE
T: +30 24220 31555